NIFTY Pool-Spa Night
Clothing OptionalFamily FriendlyIndoor
Date:

September 30, 2023

Time:

20:00

Location:

Vancouver

Venue:

Templeton Pool – 700 Templeton Drive, Vancouver, BC
Hosted by: NIFTY
September 30, 2023 – 20:00
Vancouver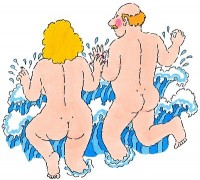 N.I.F.T.Y. INDOOR SWIM NIGHTS
Pool-spa time this Saturday!
NIFTY at Templeton,
700 Templeton Drive,
8:00 pm – 10:00 pm.
Family-friendly, nude-optional.
Enjoy sauna, hot tub, pool, volleyball, or just relaxing on the deck to socialize.
Regular admission is $11.
NIFTY offers half price swim rates to students and low income people.
Children (18 years & younger) are admitted free when accompanied by their parents.
Annual membership (by donation, $0 and up) required for all adult admissions.
Newcomers: Your first NIFTY swim is only $1 with our coupon.
Afterwards, if you would like to, you are welcome to continue socializing with the group at a local restaurant.
Whether you go to the restaurant or not is completely your choice, and does not affect your entrance to the pool.
ATTENTION!
SOMETIMES OUR SWIMS ARE CANCELLED OR MOVED TO A DIFFERENT LOCATION.
PLEASE CHECK OUR WEBSITE TO SEE THE LATEST INFORMATION

See www.niftynude.org/swims for more info.
See you there!